Will Dennis Rodman and Kanye West's North Korean vacation make America great again?

Lost in showbiz Dennis Rodman Will Dennis Rodman and Kanye West's North Korean vacation make America great again?
Move over, Donald Trump: the semi-official sporting envoy to North Korea aims to woo Kim Jong-un by bringing West on his next visit to Pyongyang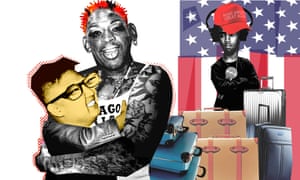 You have to feel for Dennis Rodman. When his basketball career dried up at the turn of the century, he cast around for something new. He tried reality TV, appearing on Celebrity Big Brother and The Apprentice. He tried professional wrestling, joining the WWE and Hulk Ho gan's Celebrity Championship. He even, for a brief time, acted as commissioner for the Lingerie Football League. But, sadly, nothing stuck â€" not even presiding over a bizarre underwear-based sporting organisation (which definitely exists, because Lost in Showbiz looked it up and must now live with the resulting psychic toll). Rodman was a man without purpose.
Then came the epiphany. Rodman would become the North Korea guy. Time and again, to the bafflement of the world, Rodman has visited Pyongyang as a kind of semi-official sporting envoy. Although ostensibly there to smooth east-west relations, Rodman enjoyed a troublingly close relationship with Kim Jong-un, describing him as "a great dad" and "a friend for life". And it was genius. It transformed Rodman into a figure of global fascination. He had the ear of the axis of evil, but whose side was he on? Was he even on anyone's side?
Now, though, even that is over. Ever since Donald Trump usurped him as N orth Korean Frenemy No 1, Rodman has found himself strapped for a USP. Publicly making a fool of yourself with the brutal third-generation dictator of a nuclear-aspirational nation used to be his thing, but now he doesn't even have that. So, in a desperate bid to win back Kim's heart, Rodman has done what any of us would do. That's right, he has invited Kanye West to North Korea.
Rodman told US Weekly: "If the door's open in September, I will invite Kanye West to go to North Korea with me. If he wants to make an album about that, he'll be there for like six to seven days, and he'll see what's going on."
What a perfect idea. In recent years, West has made a habit of clattering out half-finished albums at the very last minute, so, with that in mind, six days in Pyongyang should be more than enough time for him to produce an entire quadruple-length odyssey of first-draft laziness about life on the peninsula.
Politically, too, West lines up seamles sly. He has worn a Make America Great Again cap, he has questionable views on slavery, he seems to believe he is the literal centre of the universe and he speaks in a garbled soup of self-aggrandising non-sentences, so there is very little separating him from Trump. If he took Rodman up on his offer, West would be more than welcome in North Korea.
If the trip were a success, the sky would be the limit. Rodman and West could travel the world, visiting rogue nations and failed states, pushing their unique brand of basketball-and-beats diplomacy until their respective leaders grew so tired of listening to West comparing himself to Steve Jobs that they would cave in and give the UN whatever it wanted.
They could even become a kind of post-Trump mop-up crew, jetting into different countries in the wake of presidential visits to pummel their punch-drunk heads of state into better trade tariffs. You think Angela Merkel looked tired after the Nato summit? Just wait until she†™s spent 10 minutes listening to West loudly complain that Mark Zuckerberg won't give him any money. You think the Queen looked baffled by Trump's aimless wandering in Windsor? Let's see her cope with a 40-minute monologue about West's desire to become the Michael Jackson of shoe design. She would be hypnotised into madness. We all would. There would be nothing but rubble left by the end of it. Truly, Rodman and West can make America great again.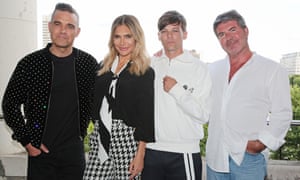 X Factor's judging lineup: sadder than a dying bear

ITV has suffered a backlash after it revealed a photo of four resting football hooligans. No, that's not right. ITV has suffered a backlash after it revealed a photo of the family you would most like to sit far away from on a long train journey. No, wait, it's the new X Factor judging lineup. That's it. ITV has suffered a backlash after it revealed a photo of the new X Factor judging lineup.
It is hard to look at The X Factor in 2018 without an immense feeling of pity. Just a few years ago, it strode the planet like a pop colossus. It was the biggest show on television. Watching its swaggering, swooshing, deafening bombast was like seeing a star explode up close in real time. There were talks of global franchises and theme parks. It seemed unstoppable.
Now there's this. The new X Factor judging lineup, as revealed this week, is dismal. It consists of Simon Cowell , Robbie Williams, Ayda Field (who is married to Robbie Williams) and the one from One Direction who was probably second most likely to take the place of Louis Walsh. That's how bad things have got. X Factor couldn't even secure the One Direction member who was most like Walsh.
The picture released by ITV is a perfect study of human sadness. None of them â€" not a single one â€" wants to be there. Pay it any sort of attention at all and you'll notice that all four judges have endless black pits of despair where their eyes should be. Some years ago, I went to Berlin zoo to see Knut, the world-famous polar bear, only to discover him gaunt and yellowing and apparently deep in the throes of end-of-life dementia. At the time, it was the saddest thing I had ever seen, but not any more. The new X Factor judging lineup is Knut times four.
It isn't so much that Lost in Showbiz, or indeed X Factor fans, think the lineup is bad, even though Twitter damn near drowned in cr y-laugh emojis as soon as the announcement was made. No, it's that the judges themselves think the lineup is bad. They think it's so bad that they have been forced to get out in front of the controversy, like a politician who has been caught sexting constituents.
Louis Tomlinson, the One Direction one, went as far as posting a video â€" part explanation, part apology â€" to calm his bewildered fans. Gary Barlow, himself a former X Factor judge, has heavily implied that he warned Williams against doing the show.
Then there's Field, who has spent this week endlessly defending her position on the panel. The most convincing argument so far has come from Williams, who argued that her inclusion is valid because she is ultimately "a member of the public". She might end up becoming the star of the show â€" because someone has to, even if only by default â€" but it's not a great start when your own husband essentially implies you are so anonymous that you may as wel l be a potato on a stick.
The best thing you could say about the new X Factor lineup is that it is like a family. You have Robbie and Ayda, the mum and dad. You have Louis, their son who recently got heavily into tattooing because he was dumped and needed an outlet for his pain. And then you have Simon â€" the distant Uncle Albert figure in the corner who gave up on life five years ago.
Topics
Dennis Rodman
Lost in showbiz
Kanye West
Kim Jong-un
North Korea
Asia Pacific
Celebrity
features
Share on Facebook
Share on Twitter
Share via Email
Share on LinkedIn
Share on Pinterest
Share on Google+
Share on WhatsApp
Share on Messenger
Source:
Google News North Korea
|
Netizen 24 North Korea